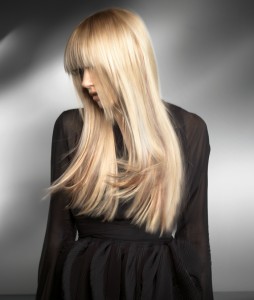 What are hair extensions really like?  Answers from Sacramento's Best Salon
My Hair Extension Diary
Day 1
After a long day of work, I stop by a friend's salon to give her a ride home. The salon's extension guru drags me into her chair to put a few 'samples' on me. She says "You need a little pick-me-up". I'm tired, hungry and my feet hurt. I just want to go home but my rides not ready yet. I acquiesce. She puts about 25 on each side of my head. She tugs a little but it doesn't hurt. No pulled hairs or headachy feeling like I expected. She places them midway down the sides of my head on either side. So far, she's skipped the top and back of my head. She's attached the tiny bunches of hair with little metal clips that lay flat against my scalp. I think she used pliers. She has carefully placed the hair just high enough above my ears to get my glasses and sunglasses on without trauma. The color match is unbelievable. She tells me to go home and sleep on them. I have wanted hair extensions forever. But, like other busy moms, I have enough wisdom to no want to complicate my life. My hair is healthy and to my collar bone. Though super fine, I have plenty of it. Long hair is sexy but it takes more time. At first to my bust-line, I play with the new hair feeling like a mermaid. I love them instantly. I am careful to voice any sentiment in case I'm back the next day begging her to take them out. My stylist trims them to blend into my hair better while I test drive them. Right now, it looks like a very long graduated bob. It's longer in the front, but you can already see the transformation. I sleep on my side and expect some discomfort. Thrown back into the commute, dinner and our 4-year olds bedtime routine, I fall asleep that night almost entirely forgetting they are in.
Day 2
I wake up and drag myself out of bed. I've forgotten my test hair until I look in the mirror. I feel like the donkey in Shrek II. "I'm sexy!" I like the way the new hair feels on my skin. Luxurious! I check my pillow fully expecting a little fallout. Maybe a clip or two or some stray hair. There's nothing. I expected the foreign hair to look foreign in the morning. But it looks exactly like my hair. My hair is styled straight most days but has some natural wave to it. It was straight when I went to bed. This morning, the extensions are the same as my hair. They have wave in the morning. Maybe I'm just lucky. But I haven't yet showered and tested them against my morning routine. The jury's still out.
I'm now wanting the back of my hair to match the front. Today. I call the salon. The appointment to put in the rest takes a four to five hour block of time and that's with two of them working on me simultaneously. A single stylist takes 8 hours. She's booked solid and I can't get in for a week.
Day 3
My stylist has a cancellation, but it's early. She explains it's just her alone-so it'll take a little longer. I grab it. I juggle my schedule to accommodate her and rush in. A word of warning, this process is very time-consuming. Give yourself the day. Get a great book and a double-tall mocha and relax. I pushed to get in as soon as possible. I had just one stylist this time. It took her a good six hours for the install. This was definitely a commitment. Thankfully she accepts credit cards. We compare two different brands of hair she had mentioned. One is a higher-end. It's luxurious. Silky smooth, and flawless. The other is what she called 'Indian Temple' Hair. She said in India, the Temples make a large part of their income from 'Hair donations' which are then sold to the West. You see they make pilgrimages to give tithe at their temples. Removing one's hair is said to remove your beauty. A great honor in Indian society is to have your hair donated instead of money. Then the Temples sell the hair as income. The Indian Temple Hair is not much different in my hand and higher-end hair is out of my current price range. Plus I'd have to re-schedule if I wanted the good stuff-because it is special ordered. My stylist puts a few of the expensive ones around my face and the rest is Indian Temple Hair. Other than taking a very long time, the process is no different than any other hair service. There's a little tugging, hair clipping and flipping going on. The extensions come in little bundles and are attached with what looks like a fancy pair of pliers. A little metal tube is inserted around a small bunch of your natural hair and the bundle of new hair is put into the tube. Then clamped shut with the pliers. All the new hair is carefully placed by size underneath the top layer of hair. I asked her to leave the same amount of my crown hair free for volume styling on top. To watch her color blending was a true art form. My hair was not colored to match. Each tiny bunch of hair was blended by sight to combine to make the perfect color match. It was definitely a pretty pleasant experience. When my pro is done she flat irons my new hair to perfection. A skeptical friend stops by near the end of my appointment and is clearly in awe of the complete transformation in my appearance. It is absolutely gorgeous. I'm handed a set of instructions and warned not to shampoo every day. It's hard on the hair and it's simply not necessary-not to mention time consuming. My home products are reviewed to make sure they are good enough for the new hair. I'm booked to come back in a week to check the locks and shape my new hair further.
Day 4
I'm in the grocery store picking up supplies. And the guys are checking me out. Some guys were young and sexy. Some were very old. But all were staring. I check for toilet paper on my feet or spinach in my teeth. I almost don't know how to react. I just didn't get it at first. I thought they were looking behind me. I decide it's humorous. I'm a married with a 4-year old. I'm half-way through 30. I'm thinking, is that all it takes? I feel like everyone is staring at my hair. (They're not) As I catch my reflection in a window I realize you cannot tell that I have any sort of hair attachment. The hair looks natural. It matches my hair color perfectly. The hair is gorgeous, and very attractive. It's no different than if I had grown it myself. And it's true. Guys love sexy long hair! But my new little hair cap does feel different. I would describe it like a heavily beaded top. We've all had one of those. They've got a little weight to them. Doubling the hair on your head definitely adds some weight and takes a little getting used to. I feel like I'm wearing a little beaded cap. But it looks great.
Day 5
My morning routine has been fairly undisrupted. I get it together pretty much like I used to. With the exception that I have to shower and shampoo at night (except for the weekends, I'm pretty much ignoring the "don't shampoo every day" advice) and spend time delicately untangling my hair and drying it before bed. It's really not that hard. I do it while I watch TV. I'm washing my hair scalp to ends with a hose on my shower head. It ends up being pretty relaxing. And in the morning- the rush is halfway done. For you daily shampoo girls, that maddening feeling of greasy hair against scalp just isn't there. There are 150 little clips holding the hair off my head. I use a volumizer at the crown on my damp hair, drying it with the round brush for volume. I skip the center of my head where the clips are and add a leave-in conditioner to the very long ends. Then finger dry them. In the morning a quickie shower with my hair carefully bundled on top of my head. I put on my make-up and flat iron my hair. I look fabulous! I notice when I let my hair dry naturally you can barely see where my hair meets and the extensions fall. But I'm ready for my check-up the day after tomorrow.
Day 6
A warning about day 6, this is your summit. The entire day was uneventful. I've had absolutely no trouble sleeping or laying in bed watching TV with a head full of metal clips. (You'll experience a few readjustments here and there to get comfortable.) My clips have loosened up a little and the few tight parts have disappeared. The new hair is really starting to feel like my own. I don't know why but I'm sitting up after a long day watching TV in the recliner and I cannot lean back. I don't know what was twisted what way to cause such major discomfort. A sinus headache I get every year when they burn the rice-fields just adds to my misery. I've had a glass of wine. It's Friday night. I'm just waiting for my husband to get home from work. I just want to relax and I can't. It's maddening. I go through a horrifying moment of deciding that they absolutely must come out. Right Now. I hear the "I told you so's" in my head. But my husband soon walks in and talks me out of my frantic search through the toolbox for pliers. Lucky for me I can't find them. We figure out in reality it was probably just one little clamp, pinched by a pony-tail I wore most of the day. He convinces me because of the sheer expense to sleep on it. I'm really really glad he did. In the morning I'm fine. I like to call this day the flashpoint. I wonder if every woman will experience this day.
Day 7
I go back with a clean dry head of hair for my haircut. I let my hair dry naturally so my stylist can see where I want the hair blended more. I decide I want some of the length taken off. Not a lot just some. I cannot see making this rational decision with fresh extensions and understand why she made the follow up appointment a week later. We just paid for all that hair-why would we CUT it? But it does indeed need shaping. She expertly shapes my layers so the extensions blend better. She takes my own hair off both the top and the underside too. I would have freaked had she done this a week ago. Not yet accustomed to my new hair, shaping your own hair into the extensions is a huge commitment you cannot back out of. I see the wisdom in the 'cooling off period'. The hair looks even sexier and better than it did before. And now it feels completely like my own. I'm a believer.
Epilogue
I wrote this because I heard either hype driven by companies that want to sell you hair extensions or horror stories of hair-gone-wrong. I knew somewhere in-between was the truth. Would I do it again? You bet. I would have done it sooner than the years I waited for it. Thinking it was just for vanity-driven Hollywood types. But it looked completely natural. I believed it was surely some sort of excruciating torture. I believed it was extreme amounts of extra work and care that a working woman and mother just couldn't afford. None of those things are true. Yes they do take a little extra care and time. Caring for your new hair can be broken into pieces and integrated right into your schedule. And it IS expensive. But, it made this working mother feel sexy again. It was worth the investment.
Most women you speak with that have hair extensions will not take them off. To quote one woman who had them taken them off during an adjustment (you go back every few months to have them moved up closer to the scalp). She said "I looked like a boy". I swore I'd just have mine for a few months just to try them. The stylists at the salon who have them were like "yeah right." So far so good.
Another word of warning, buy the good stuff. Though the hair was nearly the same in my hands, when the Temple Hair was bunched with other hair of the same quality, they tend to tangle and feel puffy. Not sleek and soft to the touch like my natural hair. The Indian Temple Hair took a lot of flat ironing and messing with to look the same as the higher-end hair. There were copious amounts of conditioners and styling aids applied to the hair to get it to behave. And though they look about the same they don't ever feel the same. And believe me you'll want to run that hair across someone! I ended up spending more money having the Temple Hair switched out at adjustments and replaced with the good stuff. I'm not a big brand-name person, but save up. Buy the best.
Editors Note: The GS HAIR Professional Styling Team does most methods of hair extensions, including but not limited to; Hairdreams, Dreamcatchers, Great Lengths and Hotheads. Microlink, sew-in and adhesive methods are all available. We select all systems carefully for quality and longevity as well as competitive prices. Extension consultations are required for both pricing and color match. Deposits are taken at the time of consultation to pay for the hair and are non-refundable. For a limited time, new clients receive a FREE Moroccanoil Gift Basket in a limited edition travel case when they purchase a $100 Gift Card. The gift basket includes: 1- .85 fl. oz. Moroccanoil Purified Argan Oil and Hollywood's Hottest Beauty Treatment retail value, $16.00. 1- 8.5 fl. oz. Moroccanoil Moisture Repair Shampoo, retail value, $18. 1- 8.5 fl. oz. Moroccanoil Moisture Repair Conditioner, retail value, $22.00 and 2 – Full Size GS HAIR Signature Brand Cosmetics (Items vary), which are a $20 retail value. So you get a full care package for your new extensions, plus some new make-up to try as our gift to you. The haircut and shaping are included in the price of your hair extensions, but we added a $50 Gift voucher toward cut & color service that you can save for later or give to a friend as a gift. (New clients only please). Supplies are limited and the offer expires 12/31/11 or when we run out gifts. GS HAIR is located at 2415 Walnut Avenue, in Carmichael. We're in the Southgate Glass building just South of El Camino on Walnut Avenue. We're open Tuesday through Saturday. You can reach us at (916) 481-2340. Reception hours are from 11 am to 7 pm. We're open additional days and hours through the holidays to get everyone in, so be sure to call! Catch us online at http://gshair.com. Friend us on Facebook at http://facebook.com/gshair. Or catch our tweets at http://twitter.com/gshair. See you at the salon!
Stylists who do hair extensions: