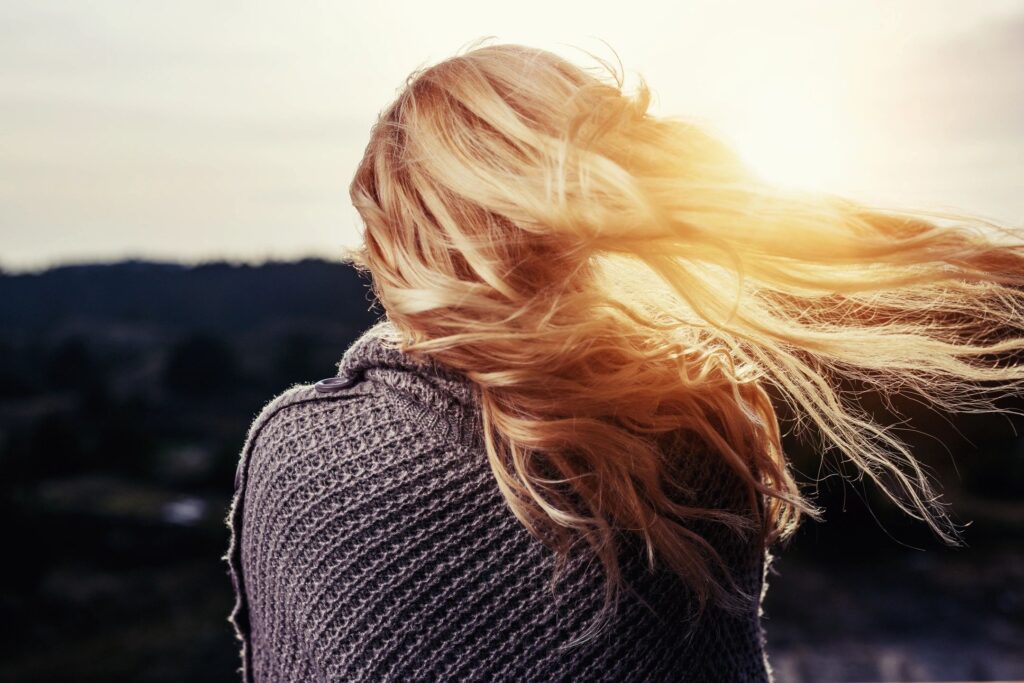 First, the science.  The American Osteopathic College of Dermatology describes sudden hair shedding as Telogen Effluvium.  A telogen effluvium event is when sudden stress, such as the Covid-19 infection, causes hair roots to be prematurely pushed into a 'resting state'.  This 'resting state' is terrifying.  Both our clients and our family experienced double and triple our normal hair loss.  Our ponytails thinned to baby-fine toddler levels.  Large patches of scalp began showing through the hairline.
Before I tell you my story, I'll alleviate your anxiety by telling you it's temporary.  We're certainly no doctors and this advice should not be construed as medical advice.
Eastward Bound
We recently moved to Smithfield, NC from California.  The road trip was fraught with biohazards.  After quarantine for 18 months, suddenly we were out in the world.  Gas pumps, restaurant tables, and hotel rooms were in the gauntlet.  My Lexus hit a road hazard and blew a radiator in Big Springs, Nebraska.  The only tow truck driver in 100 miles had to be bribed with cash.  He showed up the next day apologizing because his staff was 'all out with Covid'.  I shrunk into the seat of his tow truck.  Willing myself to take shallow breaths.  By the time we hit Tennessee, we weren't feeling so great.
So, this is Covid
We spent our first few days in our new state quarantined from our family.  We were homeless, jobless and sick.  We crawled in to the Hilton in Garner, NC and tried not to die. Our adult kids delivered food and water.  Desperately seeking help, we found the state of North Carolina offered Monoclonal Antibodies.  We got on the list immediately and were given IV Infusions at Wake Med.  Within a few days we all felt a lot better.  Not great, but better.  We leased a temporary condo and started house hunting.  Moving coast to coast, selling your home, leaving your business, clients and friends are tasks best left to those in great mental and physical health.   All you want when you're really sick is your home and your bed.   We had neither.  These were dark days.  But, we had each other and tiny spurts of energy that we rationed carefully.
Timing
We found a beautiful 1940's Cape Cod in the town of Smithfield, NC.   The neighborhood was affordable and close enough to Raleigh without being in the city.  We settled in to enjoy Christmas with the family we missed so much.   I began pulling interview outfits together the same week my hair began falling out.  This was exactly 3 months after contracting Covid 19.  We thought we had escaped this horrible side effect, but here it was when we needed it least.
How much hair did we lose?
My daughter and I both experienced about 2-3 times the 'normal' amount of hair loss.  My totally unscientific method used my hairbrush to gague the horror.   I brush my hair out wet with a Tangle Teezer.  There was usually a small handful of hair in the brush after my shower.  I clean my wet brush every time I use it.  During the 'shedding' period I would have to clean it out twice to finish.  This shedding process happened daily for about three weeks.  The hair was everywhere.  There was loose hair on our clothes, in our showers, on our bedding- I mean everywhere.
What can you do?
First, remain calm.
Breathe.  Emotional anxiety and physical trauma have the same effect on our bodies.  I knew getting upset wouldn't help.  I knew from our clients experience, that it would pass.
Nutrition. We immediately began beefing up our vitamins and cleaned up our 'road and holiday' diet.  B-Vitamins and Biotin are critical.  We love this Superpowered Vitamin B. 
Cut your hair.  Greg trimmed about 4 inches off my hair.  I had been practicing in front of a mirror for video interviews and found although my hair felt much thinner, it didn't look much thinner.  Cutting my hair helped make it look thicker.
Get creative.  Remember, It won't last forever.  I have a tiny patch at my temple that likes to thin under normal circumstances.  I moved my lighting and added a few small strokes of my eyebrow powder to the scalp underneath to hide that.
Eat in color.  Adding more fruits and veggies to our diet helped pink up our skin, which had been brutalized by Covid.
Hydrate.  Water pushes poison out of your system.  We pushed as much water as humanly possible through our systems every day.
How long before my hair grows back?
Everybody is different.  Some clients said it took almost a year.  Go for a nice long walk and soak up that Vitamin D.  It took about two months, just for our fallout to stop.  In just 60 days of concentrated effort, our hair is thickening back up.  Hang in there.
About GS HAIR
GS HAIR's namesake, Greg Saumure is a Vidal Sassoon Graduate (Santa Monica)- Master Stylist, and Colorist. He has over 30 years of experience behind the chair as a stylist, colorist, educator, and owner of one of Sacramento's Best Salons. He has launched the careers of hundreds of California stylists through his rigorous training and education program.  Greg brought his salon and his best colorist to North Carolina in 2021.  Come see us soon!
Read more about Greg Saumure here.  
Check out dramatic before and after videos of Greg's work on our YouTube Channel here.
#vidalsassoon #haircolor #raleighsalon #raleighbestsalon #haircut #gregsaumure #gshair #blonde #brunette #redhead #smithfieldnc #hairsalon
GS HAIR has moved
719 S 1st Street
Smithfield, NC 27577
Call Today(916)838-4642
https://gshair.com
Tuesday-Thursday 11 to 3
By appointment only