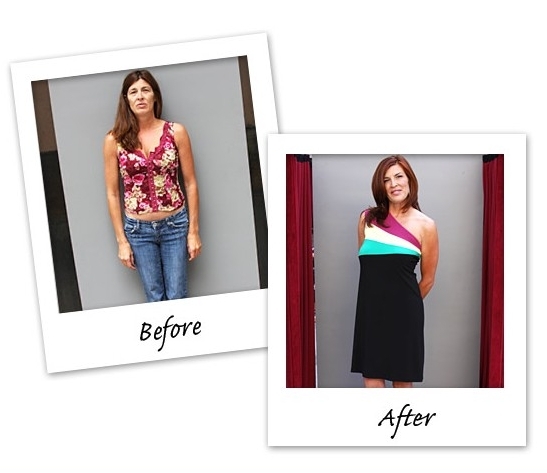 Age Reversing Salon Makeovers
Age Reversing Salon Makeovers now available at GS HAIR.  Greg does 10-Years Younger Hair Make Overs, just like the hit show on TLC!  Now, we don't, nor have any of us ever worked on the show, but we are HUGE fans!  The samples above are from the hit show on TLC and are similar to our many makeovers.
Our GS HAIR 10-Years Younger Make overs include; a precision haircut from Master Stylist and Vidal Sassoon Graduate Greg Saumure, a beautiful new hair color with baby hi-lights or low-lights as requested or recommended, a blow-out and style and a professional make up application from Victoria Brady, including lashes!  All for $250. Gift Certificates Available.  Great for any occasion. Additional color charge may apply for long or thick hair.
Bring photographs.  Come sit down with a cold glass of wine and watch the years fade away. Makes a perfect gift for birthdays, anniversaries, school reunions and any special event.
Call today for a FREE consultation at GS HAIR (916) 838-4642 we text.
GS HAIR's namesake, Greg Saumure is a Vidal Sassoon Graduate (Santa Monica)- Master Stylist and Colorist.  He has over 30 years experience behind the chair as a stylist, colorist, educator and owner of one of Sacramento's Best Salons.  He has launched careers of hundreds of local stylists through his rigorous training and education program. Greg specializes in thinning and aging hair solutions.
GS HAIR is at 2398 Fair Oaks Blvd. Ste 9  Sacramento, CA 95825.  Book direct at (916)838-4642 we text.  E-mail us at [email protected]  We are right on Fair Oaks Boulevard and Fairgate Drive on the 'miracle mile' of hair salons.  #ontheboulevard See you at the studio.
#vidalsassoon #haircolor #sacramentosalon #sacramentosbestsalon #haircut #gregsaumure #gshair #aginghairsolutions #makeovers #10yearsyoungermakeovers