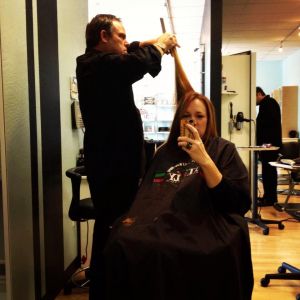 KCRA 3 A-LIST Sacramento's Best Salon
KCRA 3's A List contest to be Sacramento's Best Salon is a phenomena that came along shortly after we opened our Carmichael location in 2006. Being nominated and winning BEST Salon in Sacramento in our first year open was exhilarating. As we became more astute marketers, we quickly figured out both the good and bad sides of this popular local contest. Here's insight on what they don't tell you about the KCRA 3 A-List contest.
GS HAIR rallied our troops to vote for us after being nominated for 'Best Salon' in 2007. With a large rental staff and climbing population of loyal clients, competing for a coveted spot among Sacramento's Best Salons we knew we had a shot at the contest. We know our numbers.  We know how many clients we have.  We know how many people are on our mailing lists.  We ourselves were online voting for our favorite local businesses.
Problem #1 They sell your clients name to your competition.  And no, we're not kidding.  If your client doesn't un-check that tiny box in your online ballot, your clients are giving KCRA 3 A-List permission to email them with special offers.  They even say they are going to do this in their privacy policy.  Not such a bad thing by any means.  KCRA 3 is an advertiser.  And advertisers need to generate revenue like all of us.  As a business owner, here's the drawback. They present offers to your clients from your competitors.  That's right, the very same people you are competing against, now have permission to access and offer your clients special offers to come to their business.  It's great if you are an advertiser.  And great if you're the competitor paying for the exposure.  To be fair to KCRA 3, they tell you right up front what they are doing.  We found, that explaining the extra steps involved in 'opting out' would be tedious.  You have already asked them to go online and vote.  Horror of horrors, you have now successfully herded your clients to your competitions front door.
Problem #2  Ballot stuffing or Vote Trading.   Here's where those numbers come in.  As owners, we can tell you pretty closely how many clients most salons have.  We can look at location, experience, reputation and price and all come pretty close to the number of clients rolling through your database.  We also know who's profitable and who's struggling.  No Social Media campaign without tremendous funding or media exposure is going to gather you the numbers that smaller, less successful salons were obviously getting.  So we started researching.  This wasn't just tech-savvy up and coming salons.  Online vote swapping sites were unknown to us then.  But we found you can post and purchase or trade votes in the thousands to pull your place up to a rank it couldn't possibly have earned organically.  In summary, they cheated.  Unfortunately, they are mixed in with the great local businesses who earned their rank the old-fashioned way, by years of hard work and stellar reputations.  We know the difference between them, but the public at large will not.
We appreciate and love our clients.  We've worked hard for years to earn their trust.  We don't sell their names or undermine organic credibility that we have built the hard way.  Winning KCRA 3 A-List in our first year open gave us tremendous exposure.  People were talking about us.  Computers were searching for us.  Votes are cross posted across social media.  It's a great place to advertise.  But as far as an unbiased popular vote opinion of Sacramento's Best Salon?  Caveat Emptor.  Cross reference that opinion before you call.  Check their Yelp.  Check their Google +, ask your friends.  And good luck this year to the salons competing the old-fashioned way.  We know who you are!
About the Saumure's:
Greg and Casey Saumure opened and ran one of Sacramento's largest and most successful salons for nearly a decade.  Their commitment to training and educating hundreds of Sacramento's best stylists into thriving careers made them well-known and highly regarded in the Sacramento beauty industry.  Now focused squarely on their clients, Greg Saumure runs his own private studio.  Greg's services are still affordable.  Victoria or Casey answer the phones and book clients.  And together, they are still dedicated to the very best quality client experience available.
About Greg Saumure:
Greg Saumure is a Master Hair Stylist and Hair Colorist with over 30 years experience. He has worked behind the chair in Sacramento as a stylist, colorist, educator and lastly owner of one of Sacramento's Best Salons. He has launched careers of hundreds of local stylists through his rigorous training and education program. He has earned his loyal following of clients through a life-long commitment to exemplary customer service. We hope that you'll be one of them. Read more about Greg Saumure.
We've started updating the GS HAIR You Tube Channel with dramatic updates of Sacramento's most beautiful women and handsome men. Check out our dramatic before and after video's on our You Tube Channel.
The GS HAIR Pinterest has always been very popular. Browse popular hairstyles. Pins from our boards to show us on your next appointment!
Most recently the GS HAIR Instagram, has become a daily fixture in our lives.  Sneak a little snapshot of life at The Saumure house in between running our business.
Greg Saumure, Owner of GS HAIR is at 2398 Fair Oaks Blvd. Ste 9, Sacramento, CA 95825. We are off Fair Oaks Blvd. and Fairgate Drive on the same side of the street as Ettore's. Book direct with Greg (916)838-4642 iText. E-mail us at [email protected]
#gshair #vidalsassoon #sacramentosalon #sacramentosbestsalon #sacramentohair #sacramentocolor #sacramentosbeststylist #longhairspecialist #gregsaumure #ontheboulevard