Hair Color Kits for Salon Clients
(This article is updated and archived from April 2, 2020- see Epilogue below)
Part 1 A new reality
Our primary income GS HAIR has been shut down due to the quarantine restrictions in California.  Our last day making Sacramento beautiful was Saturday March -14th, 2020.  We realize there are life and death issues out there now.  But, viewed this as a beauty emergency, not an 'essential' problem.  This new reality had invaded.  A reality marked by toilet paper shortages, and N95 Masks and SBA Loans.  Covid forever changed the way we do business.  Later, it would change our entire lives.
Part 2 Grey Hair Looks Awful On Video Chat
First, we realized everyone needed a little confidence boost.  Our adult daughter had texted two days prior.  'Salons are surviving by selling and delivering products.'  Clients began calling for hair color.  'Grey hair looks awful on video chat'.  Years of careful color formulation were about to be destroyed by drugstore hair color.
Part 3 We Started at the Dollar Store
We started at the dollar store.  Not the best place to avoid crowds on April 1st, when everyone who was lucky enough to still have a paycheck gets paid.  But to work, the developer and the color would have to be stored separately and mixed at home.  We went early and it was dead calm.  We followed a protocol that Howard Hughes would admire.  Everything was obsessively wiped clean with Clorox Wipes, then carted home.
Part 4 Greg knows every formula
Every client has a specific color formula.  Which surprisingly, Greg knows almost by heart.  We spent a day in an assembly line.  Carefully mixing formula's and measuring developer into tiny new plastic containers.  No beauty supply was open so we used clean, new toothbrushes for application tools.  Each kit was packaged carefully into a bag, with our clients name, address and processing time.  Then the bags were sorted by area for delivery.  Greg mixed one for me as well.  For this to be executed perfectly, we had to have some sort of instruction.
Part 5 That Goofy Video
The outpouring of love and gratitude from our clients, brought us to tears.  We had generous over-tippers.  We had cards and hearts and drawings, and lemon cake left for us on the doorstep.  We didn't finish deliveries until after 9pm last night.  We enjoyed a late night feast of lemon cake and fell asleep.
The next day, we drank some strong coffee and got to work.  We mounted a camera in the bathroom and made an instructional video to go with the kits.  Hair Color Touch-Up Kit Instructional Video  https://youtu.be/sp4lLJm7iXQ 
What was in the hair color kit?
Each kit was assembled and delivered to our clients.  We included; A sealed cup with each client's color formula.  A smaller cup with developer.  A toothbrush for application, and a pair of gloves.  There was sticker on each bag for developing time and a link to the video to come, which we pulled together after delivery.
About US
Greg Saumure is a Master Hair Stylist and Hair Colorist with over 30 years experience.  He has worked behind the chair in Sacramento as a stylist, colorist, educator and lastly as the owner of Sacramento's Best Salon. He has launched careers of hundreds of local stylists through his rigorous training and education program.  Greg is also one of the few Vidal Sassoon Alumni in Sacramento.  Read about the difference between Vidal Sassoon Alumni vs. Vidal Sassoon Certificate holders here.  He has earned his loyal following of clients through a life-long commitment to exemplary customer service.  We hope that you'll be one of them. Read more about Greg Saumure here.  
Check out dramatic before and after videos of Greg's work on our YouTube Channel here.
Epilogue:
In September 2021 we followed family to Raleigh, North Carolina.  We were all born and raised in California. 
Our household was the last to leave.  We are happy and grateful to have settled in Smithfield, North Carolina. 
About 30 minutes South of Raleigh and very close to our 7 Grandchildren.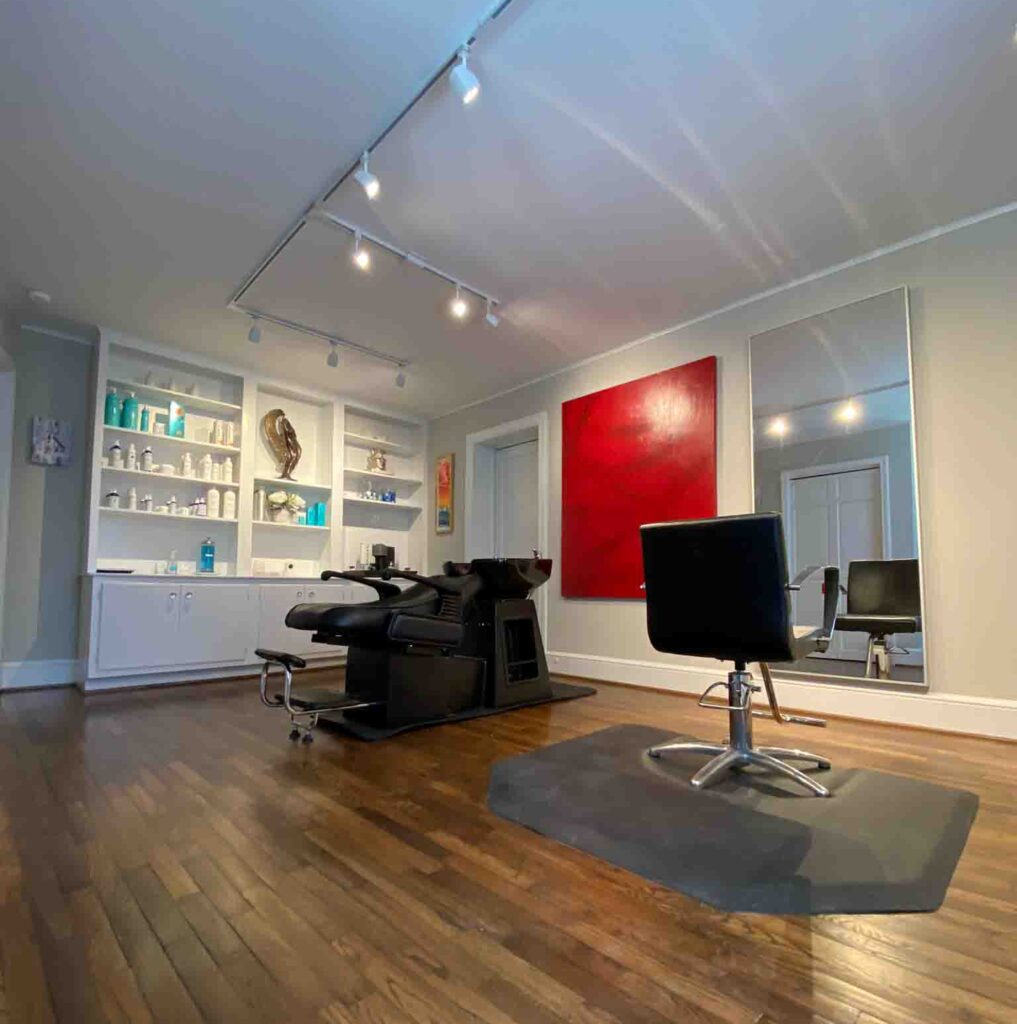 The Saumure Family
We followed our family to North Carolina in 2021. Then, opened a small studio in our home in 2022. We can't wait to meet you!
GS HAIR
719 S 1st Street
Smithfield, NC 27577
Call Today (916) 838-4642
By Appointment
Monday – Friday 10 to 7
Saturday 11-4
Closed Sunday